FOLCO®-LIT Disper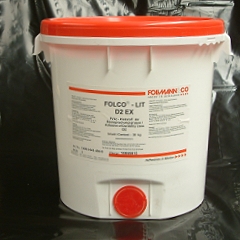 sion Adhesives and FOLCO®-MELT Hotmelt Adhesives are used in a whole range of wood composite processes due to their extremely high stress behavior:
Massivholzleimung
Areal and Assembly Laminating
Thermo u. Cold Laminating
veneer finishing
Edge gluing and pre-coating
Profile and panel sheathing
Proven stability
FOLCO®-LIT wood adhesives meet the stress groups D2, D3 and D4 in accordance with DIN EN 204 tested by independent institutes such as the "ift" in Rosenheim or the "eph" in Dresden.
FOLCO®-LIT D3 W91 additionally fulfills the high heat resistance level of 7 N / mm according to DIN EN 14257 (WATT 91).
Customer-oriented innovation
Particularly suitable for veneer finishers is FOLCO®-LIT D3 TC, which, due to its neutral pH value, prevents the occurrence of red discoloration of certain types of wood. Without the corrosive effect on processing plants, which is common with acidic adhesives, their service life is considerably extended.